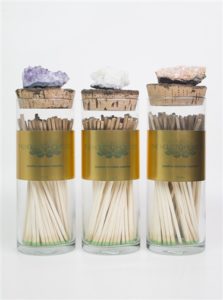 For some people, they know exactly what they want to give their loved one for the holidays. For others, maybe its a bit more overwhelming. TheHolisticHomeCompany.com tries to take out the stress of the season by making your gift giving options much easier and a bit more meaningful. With divisions that range from BEAUTY to HOME to DOG, and much more in between, we've got it all covered. We specialize in personalization and can wrap up gifts adding a hand burnished wooden name tag with the recipients name. We can add your loved ones name on a gold label to a cylindrical glass container of gold tipped Positive Intention Matches! You can even choose the scents you know they love under "Custom" and create a salt scrub or sugar facial scrub that is made just for them!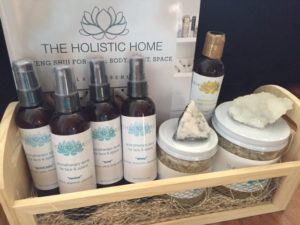 The best part is, all of our products, whether it's a luscious body scrub or a special long reach safety match, are made while holding a positive intention and are encouraged to be used while holding a positive intention. So when you use the aromatherapy scrub in the shower, visualize that you are also getting rid of anything else in your life that no longer serves you. When you light the menorah or Christmas candle this season, you can hold your sustainable match while you are also holding a good thought or end goal in mind.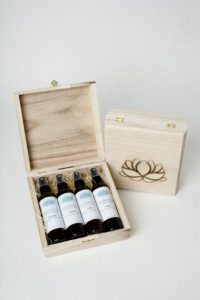 The aromatherapy deluxe gift sprays are our biggest seller. There is a reason why people love giving them as a gift and why Uncommon Goods sells a ton of them. First, the handmade wooden gift box is burnished with a lotus and makes an impressive impression. Next, the four aromatherapy sprays cover all the important aspects of your life! From getting you going or getting you unstuck to feeling the love or needing to feel sleepy, its all here in one beautifully hand burnished box.
"Good Juju" (sage, palo santo, frankincense)
Feeling stuck? Need a little luck? Good juju is a powerful herbaceous blend of three mighty energy shifters that have been used through out the ages to clear the atmosphere. Can be used on your mattress before you put on fresh sheets, in a new home, after you clean your home, after an illness, argument or anywhere where negativity has occurred.

"Love" (bergamot, ylang ylang, jasmine absolute)
This magical floral blend is a delightful and potent aphrodisiac. The three together activate the senses and promote confidence, passion and euphoria. enjoy on your face and body, lingerie drawer, in your bedroom or anywhere you need to instigate the intoxicating scent of love.
"Revive" (lemon, grapefruit, patchouli)
An aromatic elixir that is both citrusy and earthy, it will lift your spirits, help hone your focus and revitalize your disposition and atmosphere. This blend is also great for study time or a mid-afternoon pick-me up.
"Sleep" (lavender, chamomile, sandalwood)
Lavender is the most popular essential oil and for good reason. It is highly effective at promoting relaxation. Chamomile, (much like drinking a cup of it in tea form) makes you feel soothed and relaxed. Sandalwood's woodsy scent is grounding, calming and sanctifies the spirit. The three together are sure to make you feel tranquil and sleepy.
And just for reading this, we'd like to give you a secret code to get 10% off of the items mentioned above. Use the word NEWSLETTER in the check out box. Thanks for shopping with us!
Save