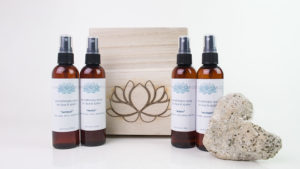 A main philosophy of my book, The Holistic Home: Feng Shui for Mind, Body, Spirit, Space delves into making effective, positive changes in your life through a holistic approach. By addressing anything in your life  – even gift giving! – through a mental, physical, emotional and spiritual perspective, you are implementing a multi-level approach that is deeper, richer, more effective and more meaningful for the recipient. And who wouldn't want to give gifts that rock?
Gifts that address the Mind Body Spirit and Space all Together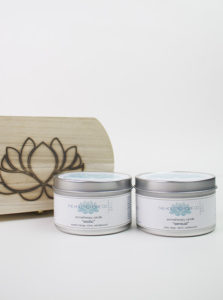 Every luxurious item has a mind, body, spirit and space component for the recipient to behold. The Mind aspect is the visualization that you hold while using it. For example, use the body scrub while envisioning you are releasing, shedding and scrubbing away anything negative in your life, make a wish when you use the gold tipped Positive Intention Matches and spray the "love" spray when you want to activate some romance.
The Body aspects cover the physical. As a Feng Shui consultant, I am in tune to the energies of people, places and things. That's why I created a resource for gifts that are made with the absolute, finest ingredients and while holding a positive intention. The aromatherapy products are made with essential oils that are sourced from locations around the world specializing in either that flower, tree, root, leaf or resin and are cold pressed or steam distilled with the highest standards. Yes, they are more expensive than most other essential oils but in this case, you get what you pay for. We use the best.  The Spirit part covers the intention, the energy and the subconscious aspects of the products. Each essential oil gives your mind a directive. Its why the Love spray is an aphrodisiac. It's why our Revive scent will give you an energetic boost. The Space portion is how it all enhances your atmosphere. From crystal topped scrubs and matches to aromatherapy sprays that enhance the vibe, it all comes together in your space.
Perfect Valentines Gift for Him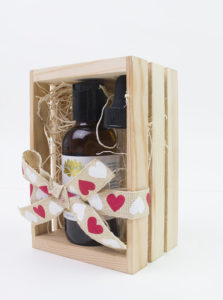 The Holistic Home Company makes an awesome Face & Beard Oil that is a perfect formula that is both light weight and non-greasy while also absorbing easily to deeply hydrate both skin and hair. A magical blend of woodsy essential oils of palo santo, cedarwood, frankincense and muhuhu create a "Manly" scent that balances skin tone, prevents wrinkles and acne while rejuvenating the skin. These four essential oils also combat mental fatigue, reduce anxiety and ground the spirit. Great gift for the Manly Man in your life, beard or no beard.
Best Valentine Gift for Her
This LOVE IS IN THE AIR AROMATHERAPY SET covers all the love aspects of your life! And this gift set can be yours for free with any purchase over $35.00 this week only.  Four sprays come nestled in a wooden box burnished with a lotus. It is a unique gift that celebrates and enhances love. Mist your bedding, bedroom, or lingerie drawer and get enveloped by romance.
"enchant" (lavender, geranium, amyris) A lovely spring bouquet of florals blended together to create a delicate balance that helps diminish negativity and anxiety while promoting joy and relaxation. All three essential oils are calming and nourishing to the heart chakra and help enhance love, inspiration and healing.
"adore" (bergamot, ylang ylang, jasmine)
This magical floral blend is a delightful and potent aphrodisiac. The three together activate the senses and promote confidence, passion and euphoria.
"sensual" (clary sage, neroli, cedarwood)
Clary sage calms the nerves, boosts euphoria and is an aphrodisiac. Neroli relaxes the mind, body and spirit yet enhances sensuality, reawakens passion and encourages confidence. Cedarwood enriches spirituality, stability and balance.
"exotic" (sweet orange, clove, sandalwood)
The blend of sweet citrus with spicy and woodsy notes create a striking scent that fill the air with mystery and warmth.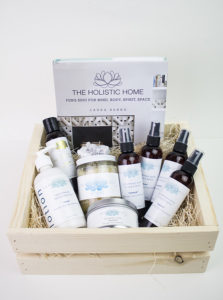 Or choose from an entire division of Valentine Goods. For every purchase over $35, add the above Love is In The Air gift set to your cart and use the code FEELTHELOVE to get it free! From our heart to yours.
Happy Valentines Day.
xo,
Laura
Save
Save
Save