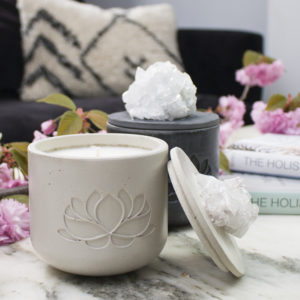 It has been a long time in the making, but the worlds best candle has finally arrived! The Lux Lotus candle by The Holistic Home Company has elevated the art of the candle to new heights. Each cement vessel is hand poured and made while holding a positive intention. The wick is made from organic cotton, the wax is non-GMO soy and the scents are made from the finest, rarest fragrances and essential oils from around the world. A one-of-a-kind crystal is embedded in the lid, which adds to the distinct, on-off feel for each exceptional candle. Burning time is 130-150 hours.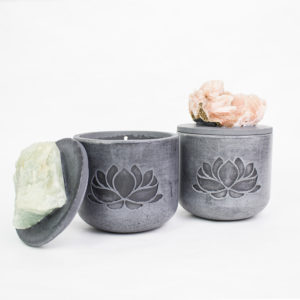 The Lux Lotus is available in your choice of color: stone or black and also comes in six different scents:
Good Juju (sage, palo santo, frankincense)
A powerful herbaceous blend of energy shifters that clears negativity.
Revive (lemon, grapefruit, patchouli)
An aromatic elixir that is both citrusy and earthy, it lifts your spirits, revitalizes your disposition and hones your focus.
Love(bergamot, ylang ylang, jasmine)
A magical floral bouquet of beauty that is a delightful aphrodisiac. enhances joy and peace.
Relax (lavender, chamomile, sandalwood)
Induces deep relaxation.
Sensual (clary sage, neroli, cedarwood)
Clary sage calms the nerves, boosts euphoria and is an aphrodisiac. Neroli relaxes the mind, body and spirit yet enhances sensuality, reawakens passion and encourages confidence. Cedarwood enriches spirituality, stability and balance.
Exotic (sweet orange, clove, sandalwood)
The blend of sweet citrus with spicy and woodsy notes create a striking scent that fill the air with mystery and warmth.
Check out the Lux Lotus here.
Save
Save