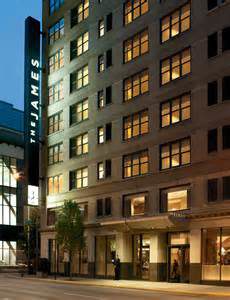 A few days ago, some in-store appearances to promote my Holistic Home Company products, as well as doing some book signings for both The Holistic Home and The Holistic Dog books brought me to Chicago. While there I stayed at The James Hotel and could not have been happier. With my next book in the pipeline, The Holistic Hotel: Lodging for Mind, Body, Spirit Space, my senses are particularly heightened concerning every aspect of the boutique hotel experience. In writing this next book – as per the format from my previous books, my Pratt lectures for architects and the basis for my company philosophy – I examine the mind, body, spirit and space aspects, addressing the mighty impact of the interconnectedness of it all. Here is how The James hits all the marks with exceptional verve, skill and grace:
MIND
The Mind portion covers the psychology of how you dwell in, and experience your hotel space. It begins the moment you are in front of the hotel, continues as you enter and check in, carries through to every room detail, amenity experience and ends at check out. The James Hotel in Chicago heralds proficiency from the very beginning. A clearly marked, clean, well-lit, welcoming entrance is anchored by an attentive doorman. As if the water bowl for dogs is not enough to showcase their canine friendly policy, a sleek container of dog biscuits next to it reinforce that sentiment even more.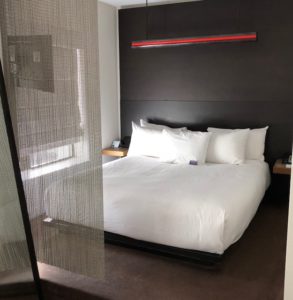 Once up in the room, details from an exceptionally well stocked bar area to an intuitive bedside tablet to a list of movies that the front desk can send up verifies the attention that is given to every guests needs. The thoughtfulness makes you feel well cared for, like you are in good hands. While I was there, my room was tended to so discretely and often by housekeeping when I stepped away, that every time I would come back, I would eagerly look around to see what else was done. ("Ahh, this evening a fresh robe is laid out on a turned down bed! There's a little wrapped cellophane package of some sort of treat on my pillow! The shades are drawn for the evening! A full ice bucket! This is unbelievable!") It all leaves you feeling that everything is going to be okay. You are cared for here.
BODY
The Body portion covers all the physical aspects of your hotel experience; from overall layout to aesthetics of design to the quality of crisp white sheets. It's how the perfect weight of their down comforter ensconces you in both comfort and luxury. It's how the balance of design elements come together– from the grand lobby art to the tiny flourish of vitality found in each room via a living succulent in a glass bottle. Perfection is also found in the variety and balance of texture – from the mix of natural wood, cognac leather and smooth marble that carries from the lobby to the room with ease. An in house spa caters to corporeal delights and a full gym and free bicycles for city exploration boosts the choices for wellbeing even more.
SPIRIT
The atmosphere, the energy, the general vibe covers the Spirit section. The James Hotel Chicago has a sense of thoughtfulness that is imbued in everything from design elements to service details to sustainable actions. Big picture decisions of caring for the planet are evident in continuously replenished drinking water in every room that comes in a recycled glass bottle. All of these decisions, actions and details subconsciously reinforce an ambiance of quality, competence and comfort.
SPACE
It all comes together in Space, to leave you with a boutique hotel stay that is unique, peaceful and luxurious. Simply put, you feel well cared for and balanced at The James Hotel in Chicago because it is a space that is exceptionally well cared for and balanced too.